Product Description
Customized Stainless Steel/Carbon Steel/steel Lost Wax Casting/precision casting steel pipe fitting/base/gear/cap/washer/bracket/flange/coupling with thread
 
Material:
 


| | |
| --- | --- |
| Stainless Steel: | JIS SCS1, SCS2, SCS13, SCS13L, SCS14, SCS14L/ DIN G-X7Cr13, G-X20Cr14, G-X6CrNi18 9, G-X6CrNiMo18 10, 1.3955, 1.4308, 1.4408, 1.4581 / ASTM/AISI CA-15, CA-40, CF-3/304L, CF-3M/316L, CF-8/304, CF-8M/316, etc |
| Carbon Steel: | JIS SC450, SCC5 / DIN GS-45, GS-60 / ASTM WCB, 450-240, 80-40, etc |
| Alloy Steel: | JIS SCW480, SCSiMn2, SCCrMn3 / DIN GS-20Mn5, GS-37MnSi5, GS-34CrMo4, etc |
| Heat Resistance Steel: | JIS SCH13, SCH21, SCH24/ DIN G-X15CrNiSi25 20 1.4840,G-X45CrNiSi35 25 1.4857 / ASTM HN, HK30, HK, HK40, HHM HP, HT |
| Bronze or Copper: | JIS BC6, ALBC6, etc |
| Other materials | Carbon Steel, Alloy Steel, Hight Manganese Steel, Tool steel, Heat-resistant Steel,  Al-Si Alloy, etc also available according to customer's request. |
Required documents for offer to be provided by customer:

Drawings with formats of IGS (3D), DWG or DXF (Auto CAD 2D), PDF, JPG
Standard of material (Preferable to provide Element Percentage of C, Si, Mn, P, S, etc and Physical/Machanical Properties of the material)
Technical requirements
Unit Weight of Rough Casting
Production technology: Lost-wax casting/investment casting
 

Main production equipment:

Vertical wax-injectors
Sand glueing tanks
Wax-evaporator
Intermediate frequency electrical induction furnaces
Spectrum analyzer
Shot blast machines
Heat treatment furnaces
Heat treatment water tank
Acid solution and water cleaning tank
Buffing / polishing machines / Electrical polishing
 

Unit weight: 1.2g~80,000g per piece
 
Other details:

Taper hole, deep hole, bent hole D>Ø2mm    L=1D
Minimum outside radius R0.3mm, minimum inside radius R0.5mm
Minimum thickness of 1.5mm, some parts with minimum thickness of 0.8mm
 

Tolerance of dimension for cast:
 


| | | |
| --- | --- | --- |
| Dimension Range (mm) | Common Tolerance | Special Tolerance |
| < 25 | +/- 0.25 mm | +/- 0.13 mm |
| 25 ~ 50 | +/- 0.40 mm | +/- 0.25 mm |
| 50 ~ 100 | +/- 0.80 mm | +/- 0.50 mm |
| > 100 | +/- 1 % | +/- 0.5 % |

 

Minimum order: No limit
Delivery: Within 30 working days after signing of contract and confirmation of samples by client
 
Technological process:

 

Workshop:

 

Some Products:

 

Testing equipments:

 

Shipments:

 

Company information:

 

Certifications: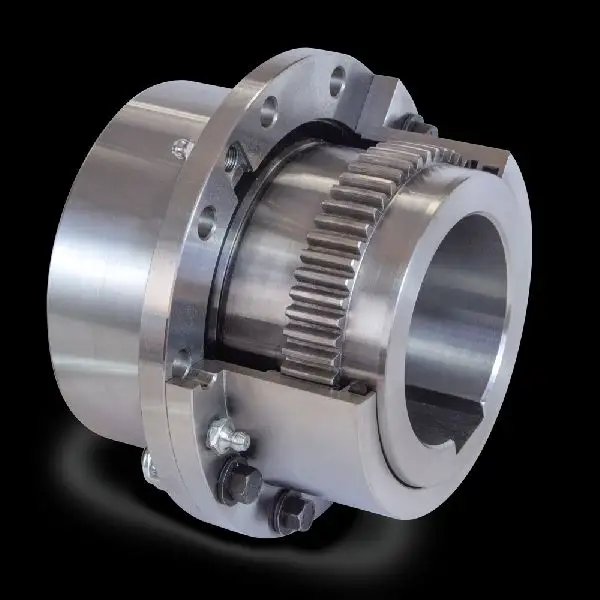 Are There Any Safety Considerations When Using Gear Couplings in Rotating Machinery?
Yes, there are several safety considerations to keep in mind when using gear couplings in rotating machinery:
Guarding: It is essential to provide adequate guarding around gear couplings and other rotating parts to prevent accidental contact with moving components. Proper guarding helps protect personnel from potential entanglement, pinch points, or other hazards.
Maintenance and Inspection: Regular maintenance and inspection of gear couplings are critical to ensure their safe and reliable operation. This includes checking for signs of wear, lubrication levels, and any abnormalities in the coupling's performance.
Lubrication: Proper lubrication of the gear coupling is essential to reduce friction, wear, and heat generation. Follow the manufacturer's guidelines for lubrication intervals and use the recommended lubricant type.
Temperature Monitoring: In high-speed or high-temperature applications, it is advisable to monitor the temperature of the gear coupling during operation. Excessive heat can indicate issues with lubrication or alignment that need immediate attention.
Alignment: Ensure proper alignment of the connected shafts and gear coupling during installation. Misalignment can lead to increased wear, vibration, and premature failure of the coupling.
Torque and Speed Limitations: Adhere to the specified torque and speed limitations provided by the gear coupling manufacturer. Operating the coupling beyond its rated capacity can result in failures and safety hazards.
Emergency Shutdown: Machinery equipped with gear couplings should have an accessible and effective emergency shutdown mechanism to quickly stop the equipment in case of emergencies.
Training: Provide proper training to personnel who work with or around machinery equipped with gear couplings. Training should cover safety protocols, coupling maintenance procedures, and the potential hazards associated with the equipment.
Replace Damaged Couplings: If a gear coupling shows signs of damage, excessive wear, or malfunction, it should be replaced promptly to prevent potential accidents or equipment breakdowns.
Following these safety considerations can help ensure the safe and efficient operation of rotating machinery equipped with gear couplings. Regular maintenance, adherence to safety guidelines, and proper training contribute to a safer working environment and prolong the service life of gear couplings and the connected equipment.



editor by CX 2023-10-10