Product Description
Coupling Travel Device Planetary Gear Coupling  Excavator Parts For DX300LC-5 
 
Basic information:
| | |
| --- | --- |
| Model | DX300LC-5 |
| Used on | Excavator,Air Compressor, Marine |
| Packaging Details | Netural Package |
| Structure | H/A/bowex/Gear |
| Part Name | Gear Coupling |
| MOQ | No Limited |
| Supply Ability | 3000 PCS Per Week |
| Processing | Forgine |
Why choose us:
    
Quality Controll
Competitive price
OEM Service
Experience more than 20 years' experience
Wholesaler We supply a wide range of spare parts for excavators
 
 
Main products:
 
Seal Series:
arm cylinder seal kit, Boom cylinder seal kit, Bucket cylinder seal kit, main pump seal kit, travel motor seal kit, 
swing motor seal kit, control valve seal kit, center joint seal kit, track adjust seal kit, bushings,
floating seals, o-ring box, pusher, etc.
 
Engine parts:
cylinder heads, cylinder blocks, crankshafts, camshafts, connecting rods, water pumps, turbo chargers,
engine assys, fan blades, main bearing and connecting rod bearings, pistons, piston rings, liner kits, etc.
 
Hydraulic parts:
hydraulic cylinder assembly, gear pump assembly, hydraulic pump assembly, travel motor assembly, final drive assembly, swing motor assembly,
main valve assembly, service valves, gasket kits, etc.
 
Electric Parts:
solenoid valves, water sensors, pressure sensors, throttle motors, stop solenoid, controllers, monitors, etc.
 
Other Parts:
seal kits, bushings, floating seals, o-ring box, pushers, couplings, engine cushions, bearings, gears, fuel filter
oil filter, air filter, track link assy, front idler, carrier roller, hydraulic oil cooler, water tank, track link assy, etc.
Product show as below:
 About us:
specialized in:
couplings, rubber mounts, gera parts, hydraulic seals and seal kits for hydraulic hammers, rock breakers, hydraulic excavators,wheel loaders, and JCB badkhoe loaders.
And, Our company also supply:
Engine parts, hydraulic piston pump and hydraulic travel motor, Swing motor assembly and hydraulic component parts, electric parts, etc. Hydraulic hammer breaker parts with piston, cylinder, chisel, through bolt, side bolt, top bush, front head bushing,accumlator, valve, etc.
We always try our best for all our customers and make it better and better. Welcome!
FAQ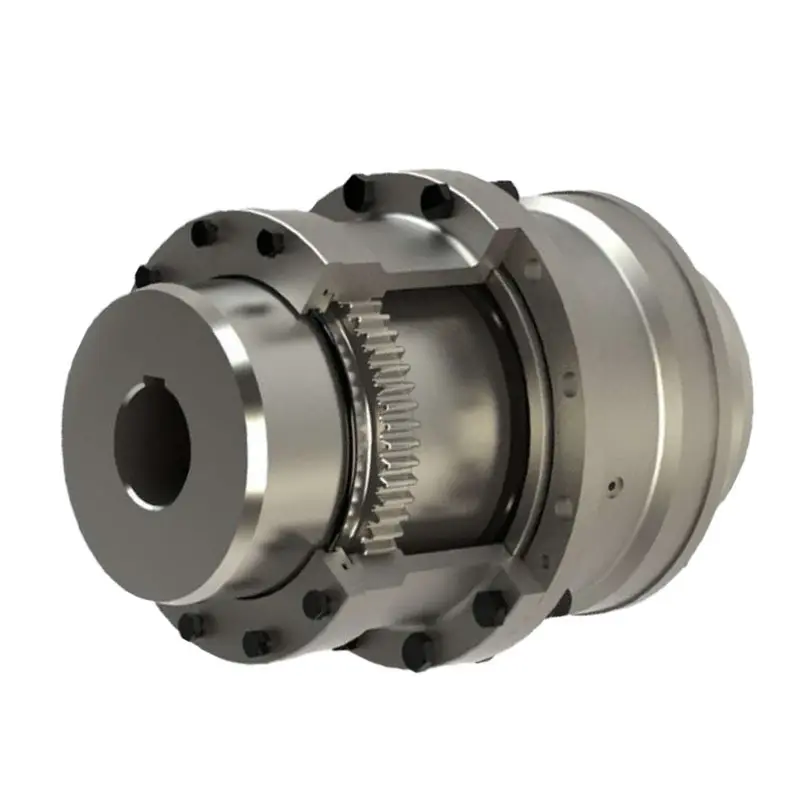 Handling Misalignment with Gear Couplings
Gear couplings are designed to accommodate certain degrees of misalignment between shafts, making them suitable for applications where some flexibility is required. They can handle three main types of misalignment:
Angular Misalignment: This type of misalignment occurs when the axes of the two connected shafts are not parallel but intersect at a small angle. Gear couplings can handle a moderate amount of angular misalignment, typically up to a few degrees, without sacrificing performance.
Parallel Misalignment: Parallel misalignment refers to a situation where the two connected shafts are offset in parallel but remain parallel to each other. Gear couplings can accommodate a certain amount of parallel misalignment, but it is generally limited to a fraction of the coupling's overall length.
Axial Misalignment: Axial misalignment happens when the two shafts are offset along the axis of rotation. Gear couplings can handle limited axial misalignment, but it is essential to ensure that the coupling's end float or end-play is correctly set to prevent axial loading on connected equipment.
It is important to note that while gear couplings can handle some degree of misalignment, excessive misalignment can lead to premature wear and failure. Regular maintenance and proper installation are crucial to ensuring that gear couplings perform optimally and have a longer service life.



editor by CX 2023-08-07