Product Description
Elastic Excavator Coupling Rubber Accessories Engine Driven Coupling 4ED00001-up
 
Basic information:
Model:4ED00001-up
Used on:Excavator, Air Compressor, Marine Machine
Packing: Plastic Bag, Carton
Coupling Type: Coupling Inserts
Material:  Natural Rubber
Payment Methods: Bank Transfer, Western Union, Money Gram, Credit
Coupling Structure: Helical Coupling
Supply Ability: 3000PCS Per Week
After-sales Service: Online Support
Availability: Stock
 
Product show as below:
Procucts information:
| | | | |
| --- | --- | --- | --- |
| Pos. | Part No | Qty | Parts name |
| 1. | 3G-1280 | [1] | SPACER |
| 2. | 9J-5654 | [2] | SEAL |
| 3. | 9J-9841 | [1] | PLUG |
| 4. | 7H- 0571 | [8] | STUD |
|   | 8H-5724 | [8] | NUT |
| 5. | 6J-2391 | [12] | WASHER |
| 6. | 1H-6227 | [1] | SEAL |
| 7. | 8J-5790 | [1] | COVER |
| 8. | 0S-1620 | [4] | BOLT |
| 9. | 2D-4534 | [4] | BOLT |
| 10. | 7J-4772 | [1] | COUPLING |
|   | 3G-1858 | [1] | KIT (section front) |
|   | 8J-3780 | [1] | KIT (section rear) |
|   | 8J-5785 | [1] | KIT (seal) |
  About us:
specialized in:
couplings, rubber mounts, gera parts, hydraulic seals and seal kits for hydraulic hammers, rock breakers, hydraulic excavators,wheel loaders, and JCB badkhoe loaders.
And, Our company also supply:
Engine parts, hydraulic piston pump and hydraulic travel motor, Swing motor assembly and hydraulic component parts, electric parts, etc. Hydraulic hammer breaker parts with piston, cylinder, chisel, through bolt, side bolt, top bush, front head bushing,accumlator, valve, etc.
We always try our best for all our customers and make it better and better. Welcome!
FAQ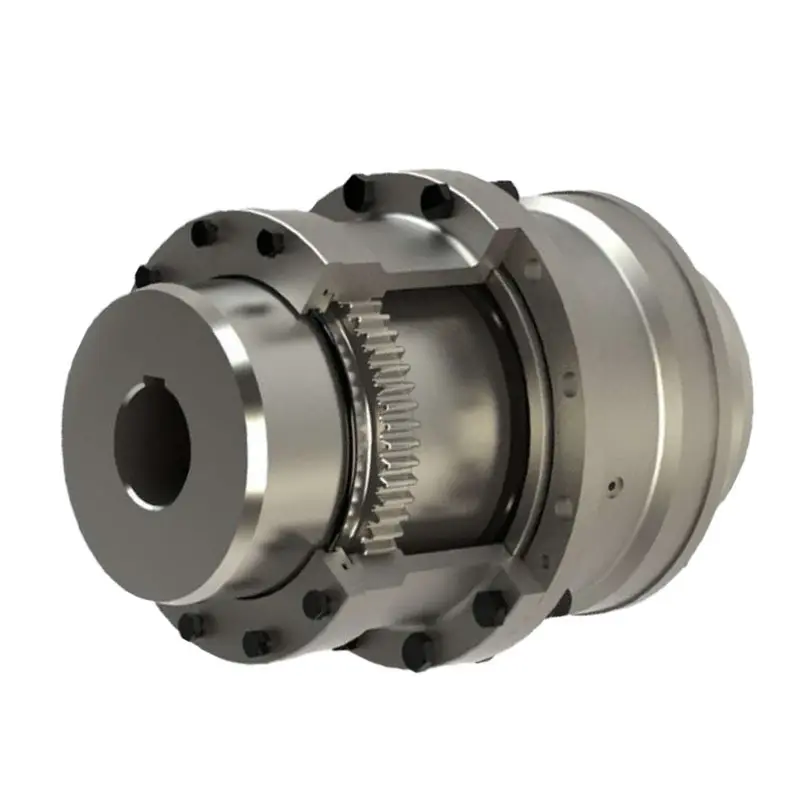 How Does a Gear Coupling Handle Angular, Parallel, and Axial Misalignment?
Gear couplings are designed to handle various types of misalignment, including angular, parallel, and axial misalignment. Here's how they handle each type:
Angular Misalignment: Angular misalignment occurs when the two connected shafts are not collinear and form an angle with each other. Gear couplings can accommodate angular misalignment due to the flexibility of their gear teeth. The gear teeth allow a slight angular movement between the shafts without causing significant stress on the coupling.
Parallel Misalignment: Parallel misalignment occurs when the two connected shafts are offset along their axis but remain parallel to each other. Gear couplings can handle parallel misalignment to some extent due to the slight axial movement allowed by the gear teeth. However, for larger parallel misalignments, special gear couplings with spacer elements or other features may be required.
Axial Misalignment: Axial misalignment occurs when the two connected shafts are not in the same axial plane and have an offset along their length. Gear couplings can handle a certain degree of axial misalignment because the gear teeth can accommodate small axial movements without causing damage to the coupling or connected equipment.
The ability of gear couplings to handle misalignment is one of their key advantages over other types of couplings. The gear teeth act as flexible elements that can compensate for minor misalignments, reducing the stress and wear on the coupling and the connected equipment. However, it is essential to ensure that the misalignment remains within the allowable limits specified by the coupling manufacturer to maintain optimal performance and reliability.



editor by CX 2023-09-01